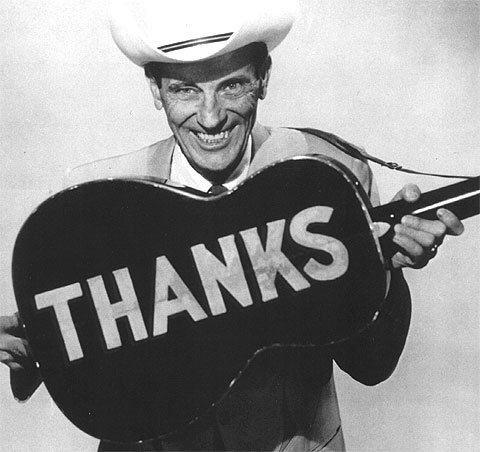 My wife is from Fort Worth, Texas--a city of great country music tradition and heritage, the long time home base of Bob Wills and the Light Crust Doughboys (singers of the immortal "Pussy, Pussy, Pussy," still the best double entendre record ever released by a country act, Brad Paisley's "Ticks" included)--
Light Crust Doughboys - Pussy, Pussy, Pussy
and for a while the base of the most important of country music's third wave singers, Ernest Tubb. Naturally, it took meeting me for my wife to learn of any of this. One of her favorite stories is about my second trip home to see her family. I asked very politely to be taken to Fort Worth's main tourist quarter, the "Stockyards." an area of town I had not been shown on my first trip, apparently because my mother-in-law is not fond of it. As the proud owner of a variety of western shirts (I was married in this one):
(several of which were, graciously, presents from said mother-in-law, who has become aquainted with my predilections), I was excited by the prospect of a few hours of cowboy culture. Most importantly, though, I had my eyes on the Mecca of honky tonk, the Fort Worth branch of Ernest Tubb's record shop. My wife and mother-in-law dropping me off there for an hour so they could peruse something a little less "down home," I went a little "hillbilly nuts," if you'll excuse the BR5-49 reference, eventually purchasing 12 CDs for the low, low price of $150 dollars. Hearing of this, my mother-in-law was flabbergasted. It genuinely amazed her, not just that anyone could spend so much on records, but more, that any kid from Wisconsin (let alone one engaged to her daughter) could be so taken by the corniest, most obviously tourist part of her adoptive hometown--a part of town she herself had little business with. My in-laws have always looked at me a little cockeyed since.
But this isn't about Ernest Tubb's Record Shop (although the Memphis branch, which was the site of
the Grand Ole Opry afterparty for many years, figures in the chapter), it's about the man himself. The first one of Guraln
ick's five "Honky-Tonk" heroes (only three of whom played anything approaching country music) which presaged the rock
abil
ly culture and music that seems to be his first and strongest love in this book, Ernest Tubb's story is one of the first generation o
f country musicians to mature as the genre itself was becoming respectable. His personal hero Jimmie Rodgers was not the first "hillbilly" singer to record, but he succeeded (unintentionally) in codifying many of the memes that would standardize themselves in a generatio
n, and in doing so pushing out the "Weird, Old America" semi-pros (Dock Boggs), contemporary anachronisms (Blind Alfred Reed), and reformed opera singers (Vernon Dalhart) from the genre, paving the way for the real professionals. The ten years between Rodgers and Tubb, what I'll call the "Second generation" for clarity's sake, were men like Roy Acuff, staunch traditionalists who retained the image of down home amateurism while becoming far more commercially savvy, with original, professional songs and musicians (in fact, Jimmie Rodgers' sister-in-law, a professional songwriter, wrote some material for Tubb at Rodgers' widow's request).
In the Guralnick narrative (Which I've expanded, obviously), Ernest Tubb is the fully professional, flour-schilling, radio-recording, barnstorming (and drum set using) link between the real traditional music and the revolution of Hank Williams (which was, of course, not really a revolution at all and soon gave way to the more radical reformulations of Elvis). His path to stardom was inexorably linked with the height of the Opry's influence on American life, and his relentless touring and recording well into the 1970s were an effort to retain the vitality of country music's height of cultural influence, even as country music (and society) changed radically, and MCA studio studio execs dropped the 61 year old from their roster.
Tubb is, in essence, what my grandparents (of the age to have served in WWII) would have known as country music, a music halfway in between its rural roots and something more, an incomplete creole of black and white, rural and urban, at the height of its influence but on the cusp of something more. The songs from the chapter emphasize Tubb's earliest hits, especially the enormously influential "Walking the Floor Over You" over his 50's material (because by then, in Guralnick's storyline, Tubb isn't really the story anymore).
He was (at the writing of this piece in the mid-70s) interesting as a performer in his own right and as a link to the past, but Tubb and the four singers who'll follow in this section are here to prime us for what comes next--rockabilly, outlaw country, and in the end, a return to the blues.
Ernest Tubb - There's a Little Bit of Everything in Texas
Ernest Tubb - Walking the Floor Over You
Ernest Tubb -
I'll Get Along Somehow
Ernest Tubb -
Tomorrow Never Comes
Ernest Tubb -
Blue-Eyed Elaine
Ernest Tubb -
Our Baby's Book
Also Mentioned:
Pee Wee King (son-in-law of Tubb's first manager, and the original author of) - Tennessee Waltz
Oh, and bear in mind, as I hit the end of each section in the book, I'll throw all the tracks together in a .zip file for easy downloading.
If the downloads don't work, it's because we've run out of bandwidth temporarily. Just come back the next day, or wait for the .zip. Thanks, y'all.