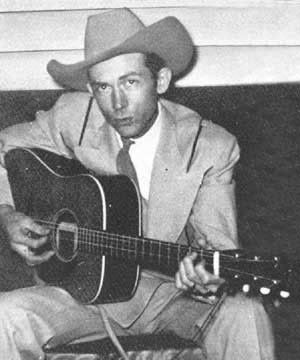 One of my favorite things about country music is that, eve
n as the music (and its audience) has changed drastically in the last 25 years--away from being the actual purview of the Southern working class, and towards a suburban music sung by performers as familiar with rock idioms as with "classic" country, it has become a fertile site for academic research and commentary. Country music is now a means for getting at American culture more generally. Books about Country's role in shaping/defining notions of class, it's theological implications, and as a bellweather of Southern history and the South's mainstreaming into American culture are all available (if not necessarily widely read),and the Journal of Country Music is one of the best publications available on American popular music.
So, when I decided to talk about Hank Williams' gospel-singing alter-ego, Luke the Drifter, I discovered pretty quickly there's little to say that hasn't been said. I could write at lenght about the contrast between Hank's secular work, which is some of the darkest popular music ever set to wax, and the Drifter work, which is often at least marginally uplifting (although not in the same way as most of even the most dire of country gospel--to wit:
The Monroe Brothers - What Would You Give in Exchange for Your Soul?
The Louvin Brothers - Are You Afraid to Die?
The Carter Family - No Depression in Heaven
As hard as it is to believe, the messages in these songs at leas
t provide for some sort of eventual salvation, no matter how bad the world is--David Fillingim's

Redneck Liberation

makes a similar point).
I should talk about why he chose to record these track under a pseudonym (or at least a more elaborate one than "Hank," his real name being Hiram, or course). It was a commercial choice--he
and his handlers were concerned that disc jockeys and jukebox operators would be less likely to play these tracks than ordinary Hank records, and they did not want to see the Hank brand's marketability affected.
I could talk to you about the parallels between Hank's own blues-influenced tales of woe, providing both reassurance and catharsis for his audience and the "secular preaching" of blues singers like Charlie Patton and Son "I'm Going to be a Baptist Preacher so I won't have to work" House (but Steve Goodson did just that in the April 1993 issue of the Alabama Review). I could even tell you about how the deeply personal nature of Hank's tales of relationship disasters presage that most golden-voiced and personal of all major country singers, George Jones--who's "Window Up Above" or "Good Year for the Roses" are the next logical step from Hank's "My Son Calls Another M
an Daddy" and "You Win Again."
George Jones - Window Up Abov
e
George Jones - Good Year for the Roses
But the Luke the Drifter material, while being an important part of the overall Williams' worldview, is not necessarily exceptional country music on its own terms (which, you should recognize, is not an argument against adding it to your collection or playing it often). In terms of both country gospel and country music more generally, it sounds to me like a step sideways--a development that dead ends with Hank. Now, obviously, these were popular enough that Hank jr. was compelled to record three albums worth of material in the early to mid-60s as "Luke the Drifter, jr.)
Hank Williams, jr. - The Dream that Woke Me Up
(as Luke the Drifter, jr.)
(eerie, isn't it?)
The most acclaimed of the tracks, "The Funeral," is (to my ears) maudlin and sentimental, clumsily rhymed and less incisive about the human condition than, say "Your Cheatin' Heart" and less poetic than say, "Long Gone Lonesome Blues." an honestly, late in his career he made more conventional country gospel recordings under his own name, free of both the dated racism and incomplete sense of salvation of "The Funeral"--it's more Louvin Brothers, if you will.
Hank Williams - When the Book of Life is Read
The recitation song most similar to the dire (but cathartic) work he re
corded under his own name is the exceptional "Men With Broken Hearts," a cheery little ditty that fits well alongside most of his best work about relationships. Hank was the first major county star to tackle the male condition for young, poor southerners. In a society where adulthood and respectability was tied far more than it is today with being able to earn enough money and gain enough stability to marry, the plight of a sensitive man--emotionally fragile, challenged by strong women he can't have, unsure of where he can fit in such a society--it lacks the false bravado of so much later country, less the equally emotional, but far less fragile (and frankly self-pitying) cheatin' songs of, for example, Conway Twitty.
Hank Williams - The Funeral (Luke the Drifter)
You'll meet many just like me upon life's busy street
With shoulders stooped and heads bowed low and eyes that star
e in defeat
Or souls that live within the past where sorrow plays all parts
Where a living death is all that's left for men with broken hearts
You have no right to be the judge to criticize and condemn
Just think but for the grace of God it would be you instead of him
One careless step a thoughtless deed and then the misery starts
And to those who weep death comes cheap, these men with broke
n heart
s
("Men With Broken Hearts")
Hank Williams - Men With Broken Hearts (Luke the Drifter)
The only example of a latter-day country song by a major artist that channels the same perspective is Merle Haggard's "Carolyn," which we'll save for another day.
We also have a sardonically funny spoken word piece that's far more direct about the realities of poor white rural life than almost anything else that came before it, in "Everything's Okay." Far from the nostalgia of "My Clinch Mountain Home" or "Coat of Many Colors," Hank gives us farmer for whom the bottom has genuinely fallen out--the corn's rotting, the canned food has gone bad, and his mother-in-law has moved in to stay. But, as he thows of at the end of every new travail, "We're still a-livin', so everything's okay."
But the only reason we're getting to have this little one-way conversa
tion is because of the fundamental wonder of the interwebs. Thanks to the "Jake and Elwood Greatest Hits' Blog," I was able to take on the entire ten disc "Complete" Hank Williams box set (which as I have come to understand is likely nowhere near complete--country music fans are apparently pretty unhappy with Mercury's treatment of the Williams catalog). The amount of Hank Williams material I had never heard, not to mention the quality of the radio transcriptions on this compilation, has kept me thoroughly busy for the last week.
---The Complete Luke the Drifter---
Too Many Parties and Too Many Pals

Beyond the Sunset

The Funeral

Everything's Okay

Help Me Understand

No, No Joe

Just Waitin'

Men With Broken Hearts


Ramblin' Man

Pictures From Life's Other Side

I've Been Down that Road Before

I Dreamed About Mama Last Night

Be Careful of Stones that You Throw

Please Make Up Your Mind



(make a commitment to honky tonk gospel--grab all 14 tracks here. It's also available as the CD reissue to the original Luke the Drifter compilation,

Beyond the Sunset

.)